Message from the Msgr. Kenneth Schwanger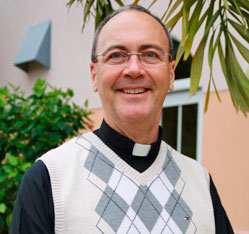 My Dear Family of Our Lady of Lourdes,
This Saturday we are again able to participate in the Geste de l'Eau with water from the Grotto of Lourdes in the same manner as we do at the Sanctuary of Lourdes. The recent visit of the relics of St. Bernadette opened our hearts to her and the message that Our Lady sent her to bring: "Go and tell the priests to build a chapel here and that people should come in procession." She is speaking to us, here at Our Lady of Lourdes in Miami.
And we are listening. We have built a church, although it isn't really ours until we finish paying off the four-milliondollar debt we owe. Even with our beautiful temple built we still have a church to build, the parish family of Our Lady of Lourdes, the Body of Christ in Miami. Mary is calling us to continue to build and her plan for that is to "come in procession." Calling us to gather our brothers and sisters, our neighbors and coworkers, our classmates and friends and come in procession to her son here at Our Lady of Lourdes.
Our Lady of Lourdes is a beautiful and active parish. It has made such an impact that it seems that it has always been here and always will be. But there is still that debt on the church to pay and the annual expense of running the church and school is $6 million. Every year we publish a financial report and every September we ask everyone to reconsider their financial commitment to the parish.
I am asking you to commit a full 10% of your annual income to the parish. Our Lady of Lourdes Church is bringing Jesus Christ to the people of Miami, and of the world. Let us not take that for granted. Our help is necessary. Our Lady of Lourdes Church will not just always be here without you, without me, without us
Msgr. Schwanger
Pastor